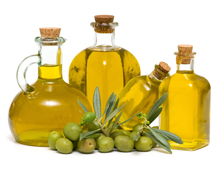 The often-studied Mediterranean diet has been shown beneficial regarding many health outcomes related to the heart but now a different condition tied to longevity can be added to the list. Researchers from Brigham and Women's Hospital found overweight women who adhered to a Mediterranean-like diet were 30 percent less likely to develop type 2 diabetes.
The MED diet is generally rich in olive oil as well as healthy plant-based items such as fruits, vegetables, nuts, seeds and legumes. Researchers knew from other studies it was likely the diabetes risk would be cut so they were more interested in the factors that led to the reduction.
Researchers analyzed data from more than 25,000 participants in the Women's Health Study, a cohort of female health professionals who were tracked for more than 20 years. They looked at several biomarkers such as insulin resistance, body mass index, lipoprotein metabolism and inflammation to understand the reason behind the reduction in diabetes risk and published their findings in the journal JAMA Network Open.
"Our findings support the idea that by improving their diet, people can improve their future risk of type 2 diabetes, particularly if they are overweight or have obesity," said study author Samia Mora, MD. "A lot of the benefit we see can be explained through just a few pathways. And it's important to note that many of these changes don't happen right away—while metabolism can change over a short period of time, our study indicates that there are longer term changes happening that may provide protection over decades."
Participants were given a score related to their adherence to a MED-like diet. Those with a score of 6 or higher were 30 percent less likely to develop type 2 diabetes than those with a score of 3 or less. This was among study participants with a body mass index of at least 25, which is in the overweight to obese range.
"Most of this reduced risk associated with the Mediterranean diet and type 2 diabetes was explained through the biomarkers related to insulin resistance, adiposity, lipoprotein metabolism and inflammation," said fellow author Shafqat Ahmad, Ph.D. "This understanding may have important downstream consequences for the primary prevention of diabetes disease."
The study looked at the long-term effects of healthier eating and allowed researchers to see who developed diabetes over the span of up to 25 years. They believe their findings will help physicians provide guidance regarding helpful recommendations for diabetes prevention.
"Even small changes can add up over time," Mora said. "And there may be many biological pathways that lead to a benefit. One of the best things patients can do for future health is to improve their diet, and now we are beginning to understand why."