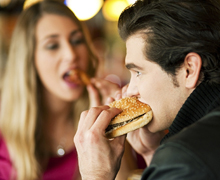 The ability to access information on the Internet regarding healthy eating is life-changing for some people but access to information itself is not necessarily enough to change someone's behavior. That is confirmed by a new report from Tufts University that shows eating habits globally are virtually the same as they were 30 years ago, before the Internet became the go-to place for advice.
Using data to assess the global, regional and national eating habits of adults and children from 185 countries, researchers were able to rank the quality of people's diets. The Alternative Healthy Eating Index uses a scale from 0 to 100 with 0 being the poorest of eating habits dominated by things such as highly processed and sugar-laden foods. A score of 100 has the recommended balance of fruits, vegetables, legumes, nuts and whole grains.
The average score of all countries in 2018, the latest year for which data was used in this study, is 40.3. That is only 1.5 points higher than it was back in 1990 according to researchers from the Friedman School of Nutrition Science and Policy at Tufts who published their findings in the journal Nature Food.
"Intake of legumes/nuts and non-starchy vegetables increased over time, but overall improvements in dietary quality were offset by increased intake of unhealthy components such as red/processed meat, sugar-sweetened beverages, and sodium," says lead author Victoria Miller.
The study points to how hard it is to encourage healthy eating on a global scale. But it's vital that improvements be made across the board as research shows a poor diet is the leading cause of illness and responsible for 26% of preventable deaths worldwide. As a general rule, women are more prone to eat healthier than men and older people are more likely to eat better than the young. The exception is in the very young who tend to eat better than older children.
There were gains in some countries where nutritious options became more popular like the United States, Vietnam, China and Iran. Countries such as Tanzania, Nigeria and Japan slid down the scale with poorer eating.
While the United States made the second-highest improvement behind Iran during the survey period, it still ranks among the lowest large-population countries along with Brazil, Mexico and Egypt.
Latin America and the Caribbean ranked lowest as a region with a score of 30.3 and South Asia had the highest overall score at 45.7. There were 10 small countries that had a score greater than 50 but combined they account for less than 1 percent of the world's population.
"Globally and in most regions, more educated adults and children with more educated parents generally had higher overall dietary quality," Miller said. "On average across the world, dietary quality was also greater among younger children but then worsened as children aged. This suggests that early childhood is an important time for intervention strategies to encourage the development of healthy food preferences."