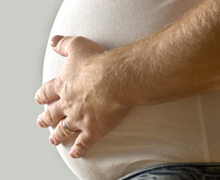 Another devastating consequence of the obesity epidemic in America is that cancer is becoming more prevalent in young adults. That is the finding of a research study conducted by Case Western Reserve University School of Medicine.
Reviewing data from more than 100 publications, researchers found an increase in the risk of nine different types of cancer as a result of obesity in young adults. Cancer is not typically seen in people under the age of 50, but the findings, reported in the journal Obesity, show how it is now more common in a younger generation.
The purpose of the study was to understand the ramifications of obesity in young adults as it relates to the 13 cancers identified by the International Agency for Research on Cancer as being linked to excess body fat. The data shows that cancer rates are rising right along with the obesity rates in young adults. One in four new thyroid cancer cases and one in 10 new breast cancer cases in 2016 was discovered in people between the ages of 20 and 44.
Losing weight helps, but researchers believe there remains an increased risk for those that ever found themselves in the obese category. Professor Nathan Berger, MD from Case Western said Young people with body mass indexes (BMIs) over 30 are more likely to experience aggressive malignancies.
"If you are obese, you are at a higher risk of cancer," Berger said. "If you lose weight, it improves the prognosis and may lower your risk, but it never goes away completely." Berger says the reason is because obesity causes changes to a person's DNA that can add up over time. These changes lead to an increased cancer risk that may remain even after the weight is removed.
Research shows obesity causes cancer to progress by overstimulating the immune system which leads to the production of harmful compounds like peroxide and oxygen radicals that mutate DNA. The altered metabolism caused by obesity also causes hormone imbalances that help cancer cells thrive and the gut microbiome becomes favorable for tumor cell growth.
Berger believes maintaining details about a person's weight history could help with early cancer screening, but that's secondary to maintaining a healthy weight throughout a lifetime. "The most effective way to curtail development of this problem is to prevent the expansion of the obesity pandemic in both children and adults," Berger said. "Without this step, 110 million children and adolescents with obesity worldwide remain at risk of developing obesity-associated cancers."