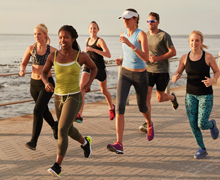 Research has long shown exercise is good for muscles and the cardiovascular system but evidence is mounting as to the benefits of exercise when it comes to the brain. Researchers from the University of Geneva in Switzerland have found a correlation between exercise and brain function they believe could be helpful in developing programs to reduce the effects of neurodegeneration on memory.
Swiss scientists published findings in the journal Scientific Reports showing intense aerobic exercise sessions as short as 15 minutes improved memory and aided in the acquisition of new motor skills.
Exercise produces tiny molecules in the body called endocannabinoids which are responsible for the physical and psychological feelings of well-being associated with exercise. It turns out those molecules also play other roles.
"They circulate in the blood and easily cross the blood-brain barrier," says researcher Kinga Igloi. "They then bind to specialized cellular receptors and trigger this feeling of euphoria. In addition, these same molecules bind to receptors in the hippocampus, the main brain structure for memory processing."
She and her colleagues wanted to better understand how exercise affects memory so they conducted an experiment with a group of 15 young men in good health who were not athletes. They committed to taking a memory test under three different conditions - after 30 minutes of moderate cycling, after 15 minutes of intensive cycling and after a period of rest.
Participants were shown images on a screen and were asked to press a corresponding button as quickly as possible after the images changed. "It followed a predefined and repeated sequence in order to precisely evaluate how movements were learned," said Blanca Marin Bosch. "This is very similar to what we do when, for example, we learn to type on a keyboard as quickly as possible. After an intensive sports session, the performance was much better."
Researchers also performed blood tests to measure endocannabinoid levels and conducted an MRI to observe changes to the brain as a result of exercise. The more intense the activity level the more benefit was observed. The higher the intensity level the more endocannabinoids were found. Greater intensity also translated to greater activation in the brain's hippocampus, the area associated with memory, and the caudate nucleus, the area involved with motor processes.
"These molecules are involved in synaptic plasticity, i.e. the way in which neurons are connected to each other, and thus may act on long-term potentiation, the mechanism for optimal consolidation of memory," says Marin Bosch.
A previous study showed exercise has a positive effect on associative memory but in that case moderate exercise provided greater benefit than intensive work. Researchers emphasized, however, that in all cases it was determined exercise improved memory better than inactivity.