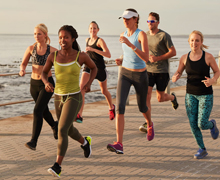 They say you can't outrun your problems, but new research shows it might be possible to outrun your depression. A new study from Vrije University in Amsterdam shows running provides the same level of relief from depression as a prescription antidepressant.
But a side benefit to the running is health improvement in other areas, while those who took anti-depressants were in worse shape at the end of the trial.
Researchers worked with 141 participants who had either depression and/or anxiety and wanted to see how exercise and antidepressants affected a person's overall health, as well as their mental health. The participants chose their treatment option and were expected to remain on it for 16 weeks.
A total of 45 people chose an SSRI (selective serotonin reuptake inhibitor), which is a class of drugs commonly prescribed for depression. Those participants were considered to be slightly more depressed than the remaining 96 who chose to take up running.
"This study gave anxious and depressed people a real-life choice, medication or exercise," professor Brenda Penninx said. "Interestingly, the majority opted for exercise, which led to the numbers in the running group being larger than in the medication group."
The antidepressant group took Escitalopram, also known as Lexapro, for 16 weeks. But their choice required no other change to their lifestyle.
On the other hand, the running group benefited from being outside, setting goals, improving their fitness and participating in a group activity. They had two or three weekly sessions of closely supervised running that lasted 45 minutes each time.
However, there was a high drop-out rate for the running group (48 percent). At the same time, 18 percent stopped taking their SSRI.
About 44 percent in both groups showed an improvement in depression and anxiety symptoms at the end of the trial period. The added benefit for the running group came in the form of weight loss, decreased waist circumference, lower blood pressure and improved heart function. At the same time, the antidepressant group saw a slight decline in those metabolic markers.
"Both interventions helped with the depression to around the same extent, Penninx said. "Antidepressants generally had worse impact on body weight, heart rate variability and blood pressure, whereas running therapy led to improved effect on general fitness and heart rate for instance. We are currently looking in more detail for effects on biological aging and processes of inflammation.
"It is important to say that there is room for both therapies in care for depression. The study shows that lots of people like the idea of exercising, but it can be difficult to carry this through, even though the benefits are significant."
Click here to read more in the Journal of Affective Disorders.